Calvert Arms/King's Colors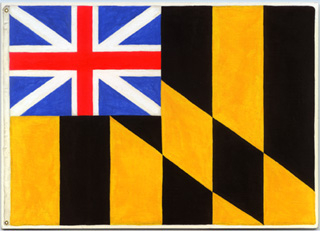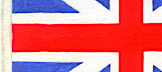 Ellicott City No. 4 'Calvert Arms/King's Colors'
5″ × 7″
acrylic on paperboard
The earliest Maryland flag combines the Lords of Baltimore coats of arms (1634, black & gold) with the first flag of Great Britain (1603, red, blue & white). Surviving descriptions of the pre-Revolutionary War flag appear in the Maryland Governor's council minutes of 1755 when banners of this design were ordered along with guns and powder from London for use in the British campaign against the French and Indian alliance. It flew alongside Maryland militias in the struggle for dominion in North America called the Seven Years War (1756-1763). Re-creations of the flag have flown in Ellicott City over the years, and it's appreciated today by historians, vexillologists, and patchwork designers.
Thomas Isaac Cabin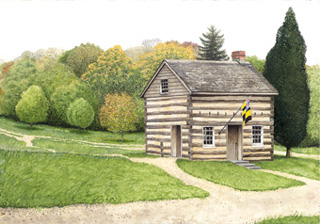 Ellicott City No. 1 'Thomas Isaac Cabin'
5″ × 7″
acrylic on paperboard
Named after an early owner, this settler-days, V-notch, log dwelling is Ellicott City's oldest surviving wood structure. Decades after its circa 1780 construction, a succession of African-American families maintained the residence during the 19th and 20th centuries. Its close original proximity to the town's first A.M.E. church in part of the Merryman Street district known as "Missionary Bottom" predates the Civil War. Moved by its original owner to higher ground and out of flood range, it was carefully disassembled again in 1980 by Historic Ellicott City, Inc., and rebuilt on Main Street in 1988. Early Maryland craft and colonial warmth live on here today as an 18th century interpretive site through the hospitality and outreach of preservationists. The first in a series of Ellicott City paintings, this 5″ × 7″ miniature sought to recreate an 18th century landscape around the cabin's latest siting.
Blizzard of 1993
Ellicott City No. 2 'Blizzard'
7.25″ × 10″
acrylic on paperboard
Ellicott City begins at the foot of Howard County, Maryland, on the west bank of the Patapsco River, whose entry was gained by covered bridge for much of the 19th century. The county seat remains a special destination, which has carved its place canyon-like into grey granites that rise steeply from the Patapsco along the Nation's first great national pike, US Route 40. At inception, a village of Quakers built Frederick Road, part of the original Route 40, connecting it to Baltimore, and later extending it westward to "Fredericktown". Ravaged over time by blizzards, floods, fires and war, the buildings of Main Street (as Frederick Road is known as it passes through Ellicott City) have persevered wherever made of stone. Ellicott City is a place best enjoyed by the pedestrian, who may appreciate its unique verticality as well as its intricate interfacing with ancient rock outcroppings and tumbling creek waters.
Church and Main
7.75″ × 10.75″
acrylic on paperboard
The city originally chartered as Ellicott Mills changed its name officially to Ellicott City in 1867. Still, its earliest legacy as a milling town lives on in the towering flour silos which backdrop this eastward view of Main Street. The town is situated at the eastern edge of the Piedmont Plateau, where the significant change in elevation made possible its founding by mill-harnessed water power and wheat farming during the late 18th century. As the town grew, it could only expand upward, climbing surrounding foothills, each new building leaving a mark of the decade traversed. Today, with its deep narrow main artery, cobbled side streets and secondary roads winding their way up and around the steep local geology, Ellicott City has an idyllic, faintly Old World character. To ascend Ellicott City's Main Street thoroughfare is perhaps to survey a ramp of American civilization.
The Yates'
7.75″ × 10.75″
acrylic on paperboard
By the 20th century, Ellicott City had established a prospering host of service providers. Early colonial log and stonework was succeeded by brick and wood construction, followed by increasingly ornate architecture and more sophisticated wares. As city development has progressed and evolved, to include department stores, bakeries, jewelers, rug sellers, and more recently, antique dealers, coffee shops, specialty gift boutiques, wine merchants and fine dining establishments, it has become a fancier's hodgepodge. However, near the intersection of Church & Main (8249 Main St.) is found a business site that for 125 years served Ellicott City citizens as purveyors of groceries, and later next door, hardware. From Samuel James Yates to great-granddaughter Betty Jacobs, four generations of Yates' have continued a tradition as food and dry goods sellers maintaining a vital connection with Ellicott City's humble past. Though their era of service has ended, long will be remembered these two distinctive shops cheerily cluttered with every household staple.
Ellicott Mills Station
8″ × 16″
acrylic on paper on wood
Situated above Main Street and surveying the town from a finer elevation is Ellicott Mills Station. Built in 1830, the two-story granite building is a true landmark in American history and bears the designation to this day as the "Oldest surviving railroad station in America". It was to this first railroad terminus in the country, racing from the town of Relay, Maryland, six miles southeast, one of the earliest American steam locomotives, the Tom Thumb, lost in a famous contest with a horse drawn carriage. The full 13-mile Baltimore/Ellicott City course was the first commercial railroad track in the United States and also hosted the first ever presidential train ride, the privilege of Andrew Jackson in 1833. The depot has served as home of the Ellicott City B&O Railroad Museum, a visitor destination of artifacts, exhibits and a research library, since the 1970s. Today, CSX freight trains pass over the valley rails by a station restored to an 1857 semblance, their horns heard daily up to four miles away.
Portions of the history above are from the books: Historic Ellicott City: A Walking Tour by Joetta Cramm, K & D Limited, 1996; and Images of America: Ellicott City by Marsha Wight Wise, Arcadia Publishing, 2006.
Ravenhurst
5.25″ × 8.25″
acrylic on bookboard
Once situated at the brow of a hill looking south over lands north of Baltimore and Towson, Ravenhurst was a rural 19th century, "Carpenter Gothic" house, completed somewhere between 1854 and 1857. The large residence was composed of a larger addition built around a modest stone dwelling, whose original construction is thought to date to about 1800.
The large board-and-batten portion was an excellent example of Andrew Jackson Downing's (1815-1852) "Picturesque" country house, made widely known in the US through his two books, Architecture of Country Houses (1850) and Cottage Residences (1852). Downing is credited through his designs and writings for popularizing the front porch, and through this innovation, expressed a deeply held belief that nature had needed, healing benefit upon home life.
The unique homestead was owned by Baltimore County citizens Major General Isaac Ridgeway Trimble, engineer, railroad executive and Confederate officer, and the Hoen family, noted for establishing the oldest lithograph firm in the United States, A. Hoen & Company in Baltimore, Maryland. It was listed on the National Register of Historic Places and later destroyed by fire in 1985.
This original acrylic painting (5.25″ × 8.25″) of Ravenhurst's former northeast exposure (4205 Antique Lane) is one of a series of small paintings done on book cover boards depicting a variety of The Free State's vanished landscapes and Americana.
[History source: the Maryland Historical Trust and Anne R. of Dr. Leonard Perry's Perennial Pages.]